Tag Archive for Garden Crafts
Category: Changing Seasons, Curb Appeal, Door Decorations, Floral arrangements, Gardening in Alexandria, Gardening in the Mid-Atlantic area, Gardening in the WashingtonDC area, Spring flowers, Uncategorized |
Tags: Floral Arrangements, Garden Crafts, Gardening in Alexandria, Gardening in Mid Atlantic area, Gardening in Washington DC, Spring flowers
I'm ready for some nicer days — aren't you? 2018 has been unusually frigid and foggy, wildly windy, and with sudden, crazy temperature swings.  It makes me crave some tropical — or at least milder — springtime weather. Not to be had just yet, so until then, I'm doing some gardening indoors.
I'm always on the lookout for interesting new houseplants and couldn't resist this one. It's a weeping pussy willow, grafted onto a standard willow trunk. There is a legend that goes along with it: If you tie a loose knot in a trailing willow branch and then make a wish, the wish will come true. You then untie the knot and thank the tree, and it will grant you more wishes in the future. Well, I could use some of that! I'll tell you if it works!
The peace lily and the shamrock also are starting to bloom. I've had both of these for a number of years and highly recommend them for low-light areas. Mine are both in need of re-potting in larger containers, but I'll wait until the blooms fade. A good rule of thumb is to use the next size up in pots, and March is a perfect time to re-pot a houseplant.
I'm waiting on some orchid plants to come back into bloom and decided to do something fun with them — I made an orchid garden to use as a centerpiece in the dining room.
If you want to try to make one of your own, here's how: I took a huge punch bowl and lined it with floral foam (mine took four bricks of floral foam). I then added the real orchids (still in their pots) into the punch bowl around the outside rim. (So they can be popped out easily to water and put back in.) With the space that was left, I added faux orchids (I used 9 stems/sprays), and filled in with pine cones to cover any remaining visible floral foam or open spots. (You could also use moss, or shells, or anything you like for this step.) Bunching them all together garden style like this creates a statement piece with lots of impact. It's so tropical-looking — just what I was going for! It makes me feel like I'm in a Victorian greenhouse when I look at it — a real plus for these chilly days. This could be done with any flowers or greenery that makes you happy, so I hope you'll give it a try. Good cure for the winter blahs!
Category: Bringing the outside in, Container gardening, Dish Gardens, Floral arranging tips, Garden Crafts, Gardening in Alexandria, Gardening in the Mid-Atlantic area, Gardening in the WashingtonDC area, Indoor gardening, Uncategorized |
Tags: Bringing the outside in, Dish gardens, Floral Arrangements, Garden Crafts, Gardening in Alexandria, Gardening in Mid Atlantic area, Gardening in Washington DC, Indoor plants
I just had a most fun weekend with my high school friends for an all-class reunion. It has been more years that I want to count, but it seems we always pick up where we left off, and we always love getting together! Since I'm still a "local", I love opening up the house to my out of town friends. I was bestowed with some very creative and lovely gifts and want to share some pictures, because I thought that if you are like me, then you are always looking for ideas for great gifts! These ladies came up with some fantastic and thoughtful ones that you could tailor to your own lucky recipient!
I love this windsock. I hung it out off the deck railing right away to signal that the party had begun, and not only is it colorful and cute, but after a couple of days we realized it had a hidden benefit! I have a wide deck railing that the birds like to perch on, and every day I would need to wash it off due to the bird's leaving something unwanted behind — if you know what I mean. The motion of the windsock hanging so close to the rail kept them from perching there, or doing their "business" there. Yay!  Hidden benefit!!!!  Don't worry though, there are plenty of close by spots for them to perch, and for us to enjoy them in the garden.
Here's another creative, pretty and very useful gift that any gardening lady or gent would love!  These are specially-made hand and foot scrubs — sugar for your hands, and salt for your feet. There are many recipes to make these online and you can even color them with food dye to match the personality of your lucky recipient. And really, who doesn't like to pamper themselves after a long day's gardening? Perfect! Of course, these containers are just right, too!
I thought this was truly fantastic:  an Earthgirl statue bestowed on yours truly — I'm humbled! This was a very inventive gift for me, of course, but there are so many interesting statues out there, that I'm sure you could find the perfect one for your gardener as well! Also, I included a couple of other things I have received over the years in the photo. Watering cans are classic, fun and useful, and I've always loved this stained glass panel of Monet's Waterlily garden.
And last, but not least — what a perfect way to end the day: to sit back to view your garden, but with a glass of wine in a hand-painted wineglass!  There was a different glass for each of us. How special is that??
I hope these imaginative ideas will help you to choose a great gift next time you are looking for one. Thank you again to my lovely house guests, I will treasure these always! And you shouldn't have!
This winter has been so drab, windy and cold, I have been spending time on one of my favorite activities: indoor gardening. My holiday poinsettia is still doing wonderfully, and a beautiful amaryllis is only now finishing its bloom. But now it is time to change the seasons inside the house, because spring will be here soon and I want to get a jump on it. I have some fun projects in store, and hope they will inspire you to give a couple of them a try.
I have always wanted a greenhouse, but I don't think that's going to happen any time soon. My solution to that is to create a coffee table terrarium. I found a nice apothecary-style jar at a local thrift shop to use, but really any big jar will work well for this. First, wash your container well with dish soap and rinse thoroughly. Next, add an inch or two of small gravel, shells or even glass beads for drainage. Be creative — you can see this layer from the sides so have fun with it.
Cut a small piece of coffee filter or fabric to cover this layer and provide a barrier, then add about 2-3 inches of potting soil. Add your plants and whatever small decorative items you wish to embellish with your own style. Add a little water and the lid. Now enjoy your new "mini-greenhouse."
Gift tip: Terrariums make super gifts for people who travel because you almost never need to add water! So make two and spread some fun.
Another easy and stylish centerpiece is a grass dish garden. All you need is a shallow container that is waterproof (so that you don't wreck your tabletop), a small amount of gravel to fill the bottom and some sod cut to fit. It will be the perfect place to rest a few Easter eggs, or just leave plain for a more contemporary look. This is a fun way to utilize those small little trimmings when you edge your garden beds!
This is also a great time to re-pot existing houseplants, before they start to grow for the new season. It is best to only go up one pot size though, and always use fresh new potting soil. Once replanted, I give mine a covering of moss over the soil for a special touch.
With any luck from Mother Nature we will have a mild Spring and be back outside soon. Until then — happy indoor gardening!
I know that title is more than a little bit silly, but I'm hoping it caught your attention. We have all seen scarecrows protecting seedlings in the garden before, but here's a new twist on that idea. How about making one out of clay pots instead of the usual clothing stuffed with straw?
If you are like me, you have probably accumulated way too many clay pots over the years.  Some of mine are cracked or slightly broken. Even still, I hate to throw them away. This is a perfect craft for all of those less than perfect pots you may have hanging around.
It's very simple to create this fun project. First, lay out on the ground the pots you want to use and stack them in the order you would like them to be in. Once you have come up with your perfect Potman, measure the length of the arms, legs and body, neck and head. The sections are held together by rebar and twist-ties, so measuring will help you to determine the length of rebar you will need. (Add about 2 feet to the rebar for the legs.)
Next, pound two of the rebars into the ground about 2 feet deep for stability.  Begin stacking the pots on them for the feet and legs. Add the pot which will become the abdomen next with the rebar poking through the drainage holes in the sides of the bottom of the pot to secure it to the legs. Then attach a bent rebar in the shape of an upside down "U". This should be secured with long twist ties to the leg rebar. The next pot will be the torso. For this pot, choose one that is one size larger than the lower one, and it will nest nicely on top to create its own seal. Before connecting them, secure a "J" shaped rebar to the "U" shaped one with more twist ties. This "J" shaped rebar should be long enough to protrude from the torso pot and into the pots you will be using for the neck and head, to secure them. Connect the shoulder and arm rebars. You may find this step easier to put together on the ground, then lift into place as one piece. Again, secure with more twist ties, and add the neck and head pots. Your done!
Some helpful tips:  To cover rebars which may be exposed, or to fill in "joints" where pots connect, use sheet moss. Your Potman will look like it has been there a long time, and it will add character to your garden. Also, it's fun to fill the "head" pot with soil to grow grass, or a vine that you can style into "hair."
If you live in an area prone to freezing winter temperatures, make sure to give the pots a seal with some polyurethane spray before assembly. This will protect them from the effects of the cold and wet.
I hope you will try this craft, and have him (or her) protect your garden from the crows! Enjoy!
Update: August 7, 2012. I was just on Pinterest and saw this cute variation. It is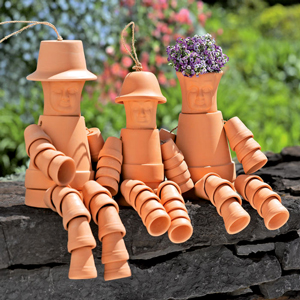 held together with ropes to make it possible to pose. The two on the left can also be used as wind chimes!