Social Buttons
by
Linksku
Hi Everyone! Seems like summer has already happened around here. We are in our second or third heat wave here in the Nation's capital metro. Maybe it's because we had such a rainy year, with our little micro climate receiving almost 80 inches of rain, but the garden has never been so full of flowers of every kind these last couple of months. Brilliant hues were everywhere!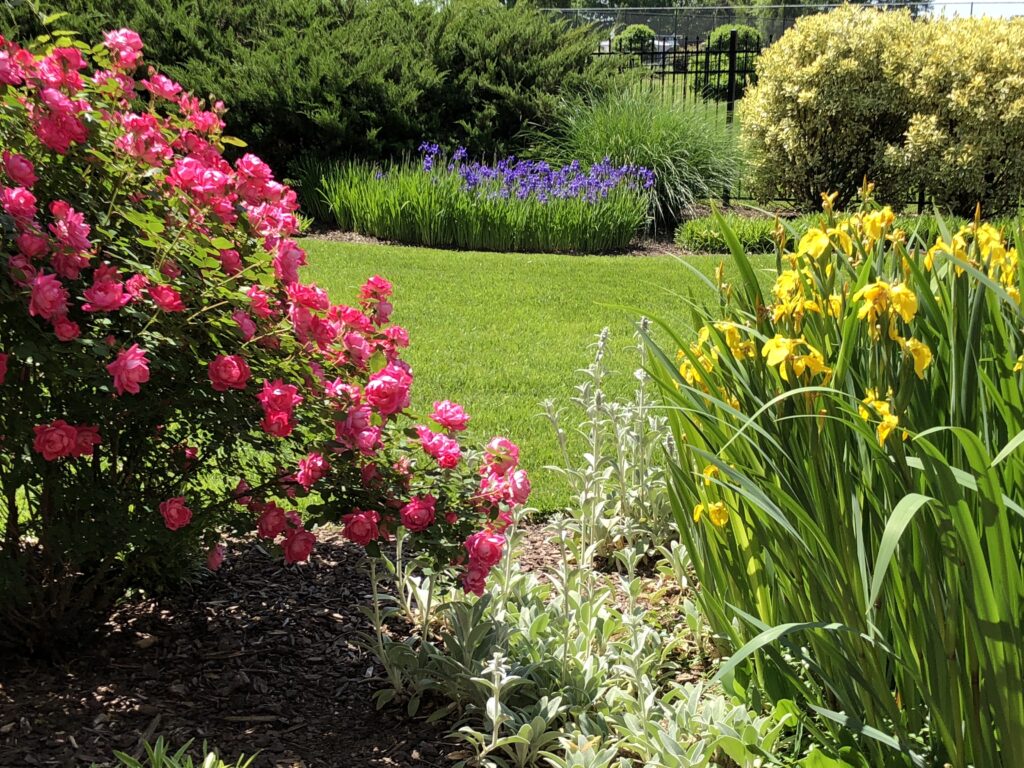 We love sitting on our deck perched above, and watching all the flowers unfold from a bird's eye view. That is until we saw the beating the wooden deck and furniture had taken over the winter months. With Covid around, it was difficult to shop for the supplies to keep it nice, but thankfully vaccine availability finally opened up and now I'm fully vaccinated. Time to launch into fix-up mode!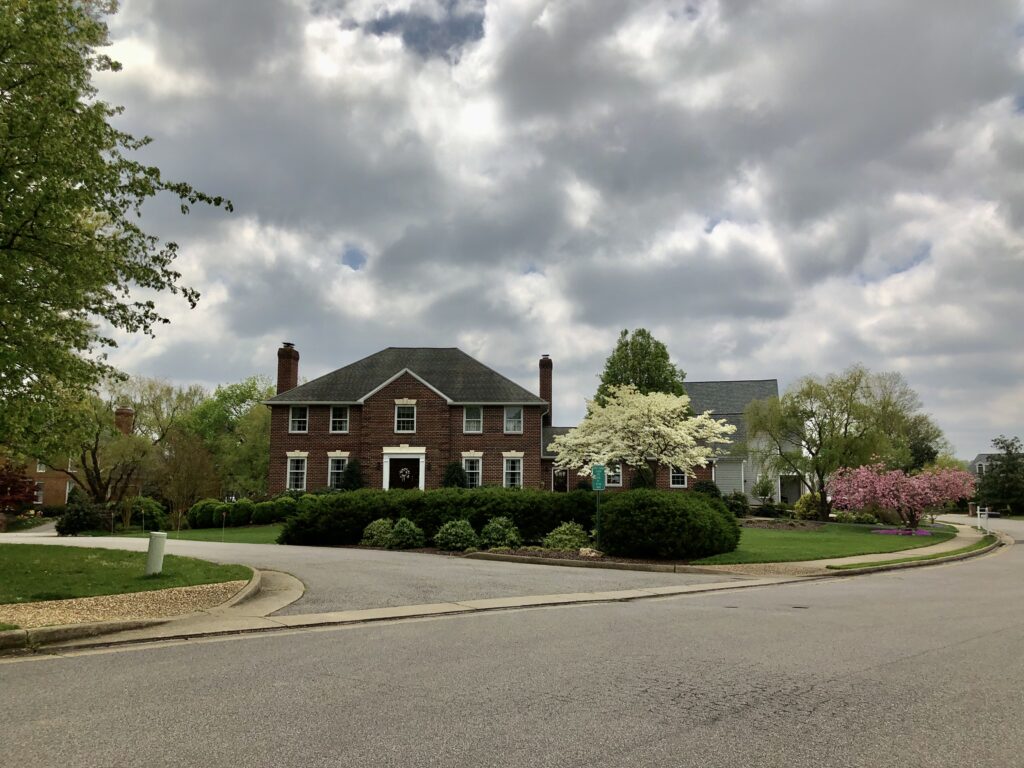 First, all the bushes and garden beds in the front were trimmed back and weeded, and the beautiful wisteria on either side of the deck, planted 20 years ago, finally bloomed! That can take decades sometimes, so you have to be patient.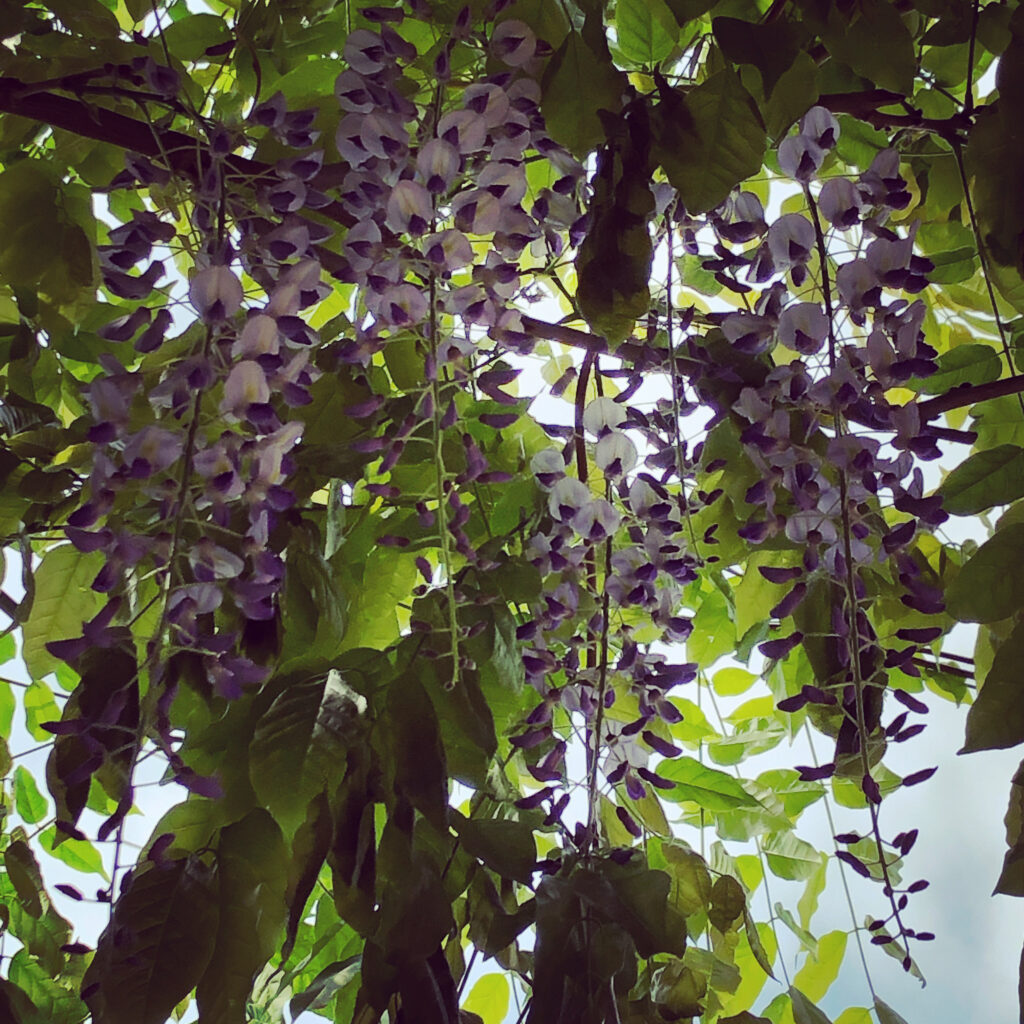 With all that done, I scrubbed, scraped, and sanded the deck. Three coats of stain/sealer later, it is looking nice again. I use a 6″ sponge roller, which is the width of the decking boards, fitted with an extension pole, that way I don't have to bend as much, a true back saver! I have a love/hate relationship with wooden decks. They look beautiful when they are freshly coated, and they stay cooler under foot than composite decking, but wow do they require a lot of annual work!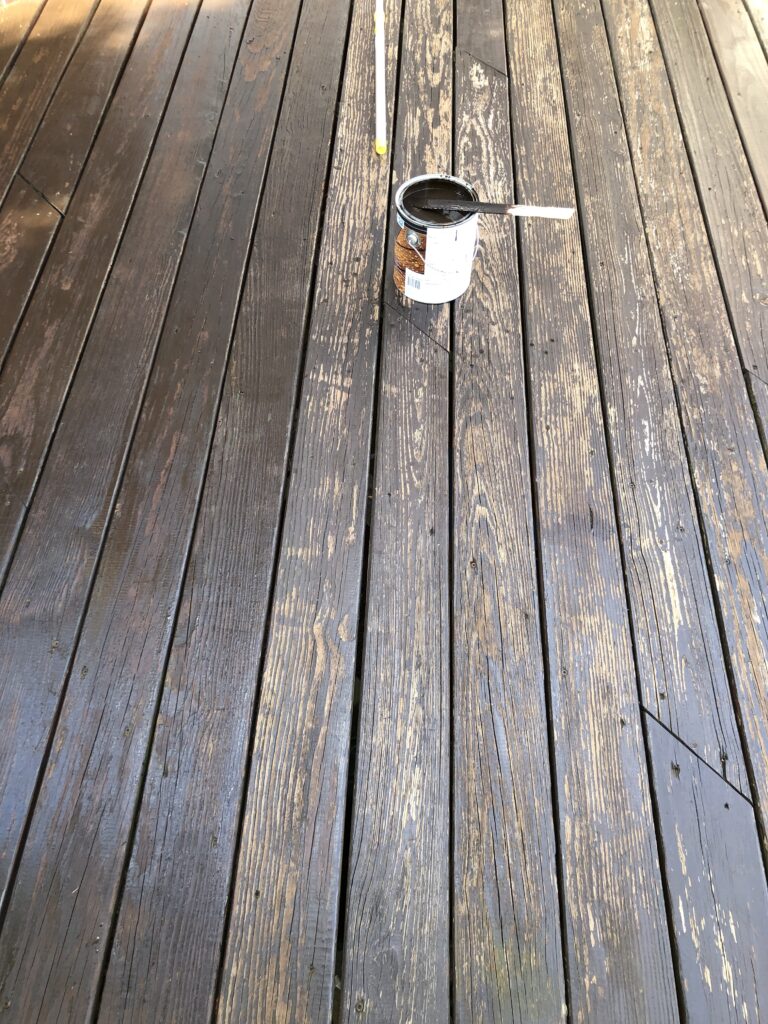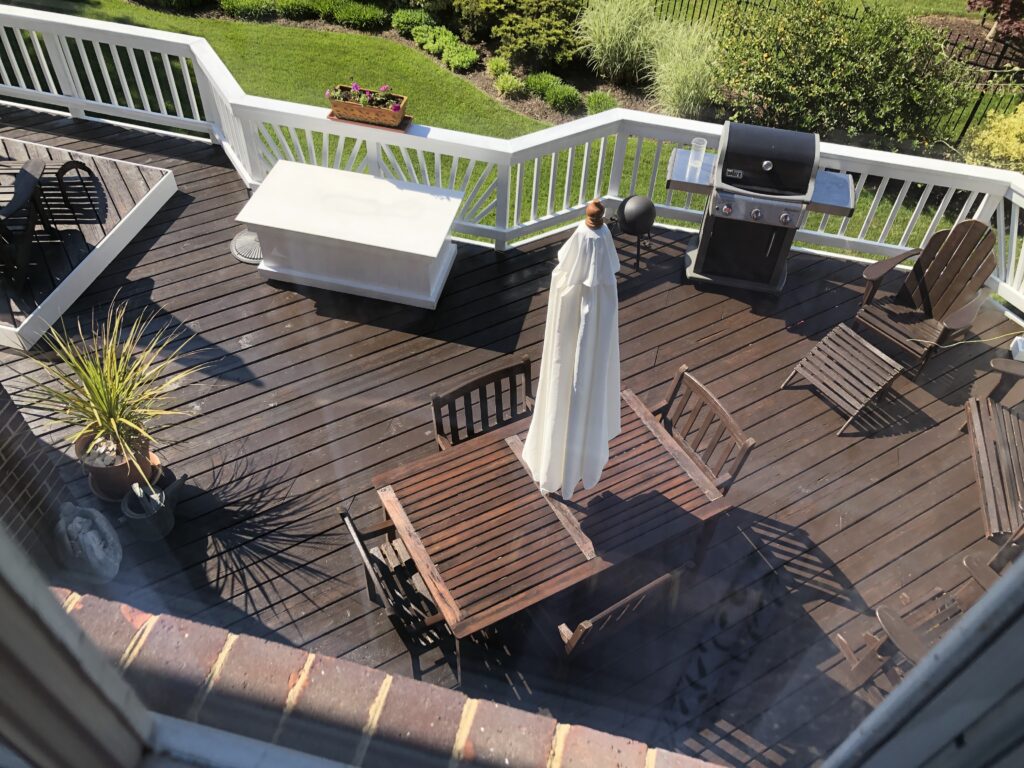 The furniture all got the same treatment — scrub, scrape and sand, and a couple of coats of the same deck sealer. I like the Olympic Maximum transparent stain/sealer. The color is Canyon Brown, and it truly covers even the worst damaged wood beautifully. Lots of tightening of the screws and bolts which tend to loosen up in the freeze and thaw of winter every year made them all in good shape again. Then on to one of my favorite spruce ups: I sewed new covers for all the cushions, 9 in all. I was all set to use some indoor/outdoor fabric until I started shopping. At $30-$50 a yard, and needing 6 yards at least, I decided to go back to the paint shop and purchased a huge canvas drop cloth. They are very durable, and for the yardage that I needed, much less expensive. So for $20 total, we now have fresh, clean cushions. It's also washable, so as the inevitable spill or bird poop happens, they are easily dropped into the washing machine!
The white trim work had gotten very grimey as well. My go to cleaner, oxi clean, brings it back to brilliant, and the painting goes on quickly with a smaller version of a sponge roller. Makes the whole project sparkle when the trim is fresh and clean. Elbow grease goes a long way with projects like these, and satisfying when finished. The only thing left is to add a few more flower pots with some beautiful annuals for some pretty color, and enjoy!