Archive for Christmas decorating
It seems that this Christmas season I have been playing a little too much catch up with the leaf raking. I feel like taking a moment to relax and sharing a few photos of Christmas this year at our home. Much like years past, I used lots of fruit in the Williamsburg style. There are candles and wreaths in each window, and garlands with cranberry chains around the door, stair railings and candle post. It is simple, but fitting to the history of the colonial style of architecture in this area of the east coast. And of course, I love it!
I hope each and everyone of my cherished readers has a warm and happy Christmas, and a healthy new year!  I'm looking forward to next year's gardening, and planning for some interesting new plants to try. May you enjoy each and every new day in 2016!
Category: Christmas decorating, Christmas ideas, Christmas lights, Gardening in Alexandria, Gardening in the Mid-Atlantic area, Gardening in the WashingtonDC area, Uncategorized |
Tags: Christmas Decorating, Curb appeal, Gardening in Alexandria, Gardening in Washington DC, Williamsburg Style Christmas, Winter Curb Appeal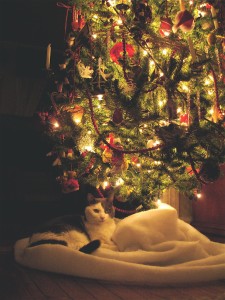 I guess everyone knows that the tree hugger in me thinks of cutting down a tree for Christmas like the way vegetarians think of eating meat, but I admit there is nothing like the scent of a real Christmas tree in the house. Although I am a convert to artificial trees, I want to help all my friends who celebrate with a real tree have the freshest, most fragrant tree possible. I have had this recipe for many years, and if you use it, your tree will draw in eight times more water than it originally held! Really! This will make your tree safe and fragrant for weeks. So, without further ado — here it is:
One beautiful Christmas tree
2 gallons of hot water
2 cups karo syrup
1/4 cup clorox
2 tablespoons of epsom salts
1 teaspoon of borax
Cut 1 to 2 inches from the bottom of the tree. Soak the tree in the mixture for a couple of days, then cut off another inch before you put it in its stand. Save the mixture to add to the reservoir in the stand.
I highly recommend this and used it for years. You will be able to enjoy the tree for much longer, and it even helps to keep the deep green color. This is also great for the wreaths, garlands, and pieces of evergreen used in decorating, too. Just soak them in the mixture before using them. Enjoy!